Materials Used & Location
What metals do you use?
It's important to me that our earth's resources are valued and the carbon footprint I leave behind is minimal.
The metals used in K. Kay jewelry designs are sustainably sourced from suppliers that produce recycled metal.
The most common metals used are Argentium Silver, Sterling Silver, 14K Yellow Gold-filled, 14K White Gold, and 14K Yellow Gold.
All jewelry for sale has the metal used to create it in the description of each piece.
What stones / gemstones do you use?
I use several different precious and semi-precious stones. I do my very best to ensure they are ethically sourced from reputable suppliers who treat their employees well with fair wages and safe work environments.
All gemstone jewelry will have stone dimensions and types listed in the individual descriptors.
In my OOAK (one of a kind) line, I may use a special cut stone from an independent lapidary artist or a stone that is OOAK.
Because the way nature produces the beauty of different striations, you simply cannot duplicate many semi precious gemstones.
I also use agates and other stones hand picked from the mountains in Wyoming by a local geologist that are tumbled yet often times left in the organic shape they were found in.
Where is your jewelry produced?
Most of K. Kay Designs jewelry is produced by myself, Kirstin, in my Minnesota studio using age-old jewelry techniques.
A small jewelry team may be used during busy seasons.
Do you provide gift wrapping?
At this point I do not offer gift wrapping.
BUT, your jewelry will come nicely packaged in a gift bag or box, depending on the item purchased.
The jewelry I'm purchasing is for a gift. Can you ship directly to my recipient?
Wow. How sweet are you??
Yes, shipping can be made directly to your recipient. Just make sure the shipping address is the address you want it to go to.
And please leave a note during check out so the receipt that gets sent doesn't reflect a price.
I'd be happy to include a little note for you as well, you kind person, you!
What type of packaging does your jewelry come in?
I use either a jewelry pouch or gift box, depending on the item.
Some sterling silver jewelry gets shipped in a sealed plastic bag to help prevent oxidation.... some people call this "tarnish". Although this is a natural process that occurs when sterling silver is exposed to oxygen in the air.
Please check out my Jewelry Care section on ways to keep your jewelry looking it's best!
How do I find my ring size?
See below for the ring sizing guideline.
If you are hesitant at all about your ring size, please locate a reputable local jeweler to have them size your finger for you.
We also have the option to send you a disposable ring sizer for a small fee that would be shipped to you separately after you place your order.
Wider bands and stackable rings of three or more require a larger ring size. I recommend ordering a half ring size up for stackable rings with thin bands.
With extra wide ring bands, a full size up is usually best.
If you are in doubt, please contact customer service.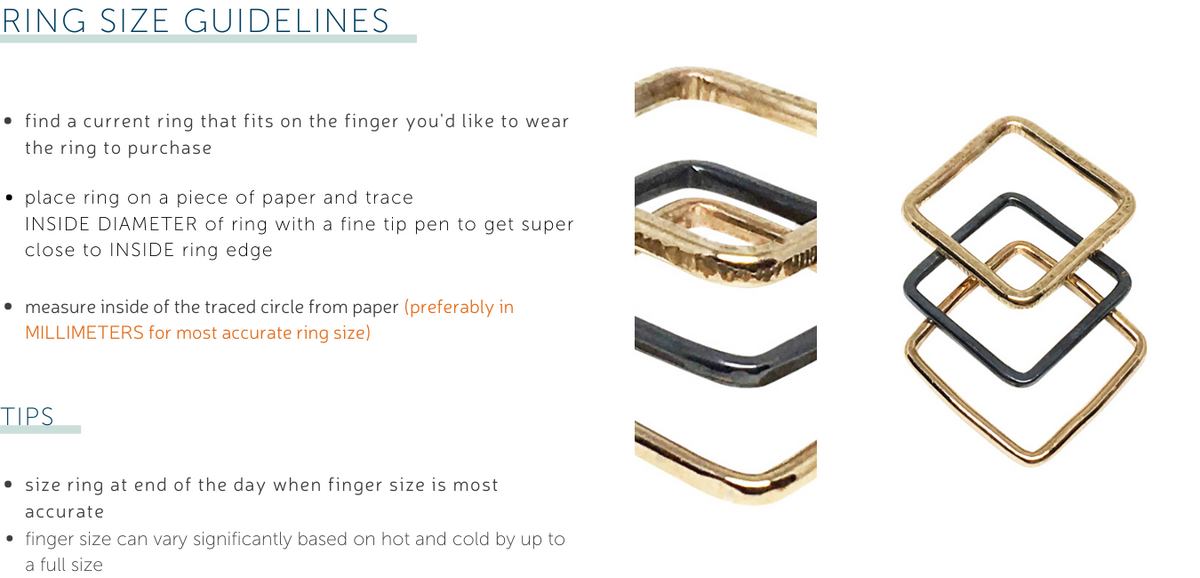 What if my ring doesn't fit?
Please contact info@kkaydesigns.com to discuss ring sizing questions or any piece of jewelry with a gemstone in it. There are many variables to ring sizing.
For example, some semi-precious and precious stones cannot take heat from a torch that is necessary when adding to or taking metal away from a ring. Therefore, I will need to talk with you prior to sending it in for sizing.
Ring re-size pricing varies on metal and length of time needed. I can give you a quote based on time and materials for your sizing needs.
Can I use multiple coupon codes?
Sorry. Only one coupon per order. Coupons are not available on sale items.
Do you offer discounts?
My jewelry is priced for quality and value, but I do run occasional discounts at various times of the year.
Make sure you sign up for my Connected Newsletter below for private discount codes and offers throughout the year.
Be sure to follow me on social media as well as I run different opportunities on different platforms.
Follow K Kay Designs on Instagram
Follow K Kay Designs on Facebook
Do you offer wholesale?
I do on a select items!
Please contact kirstin@kkaydesigns.com for more info or simply click on the Contact section on this webpage to directly email your inquiry.
When will my order ship?
Most orders ship within 2-7 days in the U.S. states, however, allow for up to three weeks on customized jewelry.
If you require expedited shipping on your order, please contact orders@kkaydesigns.com before you place your order.
Wedding, Engagement rings and other complex customizations are excluded from shipping times listed above.
Please contact me to discuss.
Please be aware that I do not ship on Holidays or weekends.
Orders are shipped Monday-Friday from my Minnesota studio.
How will I know if my order has shipped?
You will receive an e-mail with tracking information as soon as your order ships.
Refunds/ Repairs / Returns
What if I want to return or repair my jewelry?
Please go to the policy page for answers to these questions.